Sensory Analysis Software

The SensCheck™ Sensory Management System provides breweries of all sizes with the means to take charge of their beer flavour quality using tried and tested web technologies.
Tasting lies at the heart of every brewery. Generation and management of valid tasting data take time. And with many breweries testing as many as 5,000 samples each year they need a reliable way of storing and accessing this data if they're to make the best use of it.
Let's face it, paper taste forms have had their day, Flexible, interactive forms deployed using low cost internet-enabled device are the way to go. But without an easily accessible database you're never going to find what you need when you need it.
The SensCheck™ Sensory Management System allows you to do the following:
*

Recruit tasters to your taste panel;

*

Evaluate the aptitude of new recruits;

*

Carry out taster training using pre-configured modular training programs;

*

Assess the skills of your tasters in identification and scaling the intensity of flavours in beer through regular 'taster validation' sessions;

*

Routinely assess the flavour quality and attributes of packaged beer and in-process beer.

*

And much more!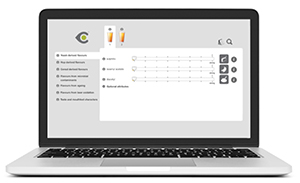 The SensCheck™ Sensory Management System offers a wide range of options for evaluating beers, analysing the results and sharing the information generated. This document aims to give you a feel for some of the system features and its ease of use. However, there's no substitute for actually using the system on real data.
It's when you start to make use of every single data point generated by your tasters day to day, month to month and year to year that you'll generate real insight and value from your tasting activities. This will allow you to make better-informed decisions based on a body of data, rather than react to the flavours associated with individual samples.